In case you can't be bothered to scroll down to find a specific character

Main Characters
| | | | | | |
| --- | --- | --- | --- | --- | --- |
| Name | Age | Gender | Species | Relationship status | Personality |
| Tai Ludwig | 19 | Male | Able to sense emotions. Including Death. | Single | Short-tempered, adventurous, optimistic, loyal. |
| Juliet Branton | 17 | Female | Shapeshifter. | Single | Musical, sometimes sarcastic, socially awkward. |
Last edited by Scampi on Fri Feb 12, 2016 5:46 am; edited 15 times in total
Who Are You?
Full Name: Tai Ludwig
Called by?: Just Tai, thanks.
Gender: A guy as far as I'm aware.
Birthday: November 30th
Age: 19
Mom: Kimberly Ludwig (formerly: Terrance)
Dad: Richard Ludwig
Siblings: Bethany, 16. 
What Are You Like?
Personality: Tai is typically a risk-taker, always wanting to explore now and think about the consequences later.He's a logical thinker and generally quite optimistic about life. He's loyal and trusts people quite a lot, however is fairly solitary due to his unstable emotions. He can be very affectionate and surprisingly romantic (and even flirty) towards people he loves.
Favorite/theme song:
What are you?: I'm not quite sure, but I can sense others' emotions and I can even sense when someone, or something is going to die... It's scary...
Talents: Strong, good survival instincts, a decent cook.
Flaws: Not very sympathetic, often leaves reason behind and can be quite short-tempered and impatient. Terrified of birds.
History:  
Spoiler:

Tai was a difficult child, with his emotions constantly changing no one really knew what to do with him, and sometimes the slightest thing could set him off. Eventually his parents stopped trying with him and fussed more over Bethany, the child who seemed perfect compared to Tai. Feeling rejected, he stayed in his room the majority of the time, or even worse, climbed out of his window and explored. It didn't really matter what time he came home, his parents didn't care or even bother to check on him.

By the time he was 16 he had been working (after dropping school, he didn't feel like he needed it) when his parents came to him, questioning him about school. He sensed their anger, disappointment, but the worst thing was that he could feel that they knew this would happen. The feelings scared him slightly but he pushed it aside, pinning it down as human instinct. That night he packed a rucksack of things he needed and once again climbed out of the window, this time he wouldn't be coming back.

Since then he's been travelling non stop. After acquiring a skateboard to get around much easier, he became quite the little pick-pocketer, only to get what he needed to survive; money for food and water, change for washing machines to keep clean. Somehow he has managed for years, but the sense of feelings have only grown stronger, being able to hear what someone is feeling just by passing them. One time he passed someone and sensed death. Later that week, he recognised that person's face on the newspapers. Dead. He's tried to push the thoughts aside but nothing really works. He just keeps wandering, hoping to find his place in the world one day, find his meaning if he has one.
Love Life?
Married To: No one.
Children: None.
Past Boyfriend/Girlfriend: Had a couple of one-time flings, but nothing serious.
Current Boyfriend or Girlfriend: No one.
Your type: Um... Cute? Sweet? Someone who can actually see me at my worst and still want to stick around I suppose.
Fiancé(e): No one.
Sexual Orientation: Heterosexual.  
What Do You Look Like?
Hair color: Dirty blonde/Light brown
Eye color: Dark Brown
Nationality: American
Tattoos: None
Piercings: None
Style: It varies mostly to what I can afford. 
What you look like:
FC: Thomas Brodie-Sangster
Last edited by Scampi on Fri Feb 12, 2016 1:16 am; edited 19 times in total
Who Are You?
Full Name: Juliet Branton
Called by?: No one's ever really called me anything except Juliet so… Not really.
Gender: Female
Birthday: April 12
Age: 17
Mom: Keira Smith (was Branton)
Dad: Calvin Lyles
Siblings: Nope, only child. As far as I know anyway.
What Are You Like?
Personality: I guess I'm quite confident around friends, but I can be quite socially awkward which makes making friends difficult at times. I can be quite energetic about things I really love, like music, but I can be quite sarcastic and pessimistic at times. Majority of the time I just stay quiet to not get into any trouble, I don't think I'd be very good at fighting.
Favorite/theme song:
What are you?: Well I can change into different animals…
Talents: I'm not exactly the most talented. I do enjoy playing piano, and can play a little bit of ukulele. I've been told I can sing quite well and that I'm good with children but that's about it, I think.
Flaws: Um… Everything else? I can't cook, fight and I'm terrible with any technology. Oh and I can be rather hot-headed, and I like to make decisions quick instead of thinking about it and planning it through.
Hobbies/Favourite things: I used to read a lot, but not as much now, so mostly piano and other music stuff. I like films and `I actually enjoy writing a lot, I used to create stories.
History:
Spoiler:

Ok, so my parents had me by accident when they were really really young, like probably my age. Obviously neither were ready for a child but she hated the thought of abortion so my mother went through with it anyway, only to give me up for adoption right away. I grew up with a lot of other rejected kids, and as I grew older I started to take care of them myself, making them laugh and happy by changing into different animals, a power I had always possessed or singing to them. It was then that I started to pick up piano and even played a small ukulele for a short time. It was wonderful, up until one day when the carers found out what I could do and tried to take me away. I turned into the first thing I could think of; a wolf, and I ran for my life. I didn't want to hurt them, they had raised me, given me a place to live. Yet they still thought I was dangerous. Since then, the wolf has been my primary form. I tried to live normally, but making friends wasn't that easy in the real world. I had heard of an Immortal Mansion through over hearing people speak, a wolf has it's perks. So I headed here.
Love Life?
Married To: No one.
Children: No. I won't make the same mistakes as my parents.
Past Boyfriend/Girlfriend: None…
Current Boyfriend or Girlfriend: None.
Your type: Type? I don't know, I haven't given it much thought. Perhaps someone musical like myself? That could be nice, or just someone kind, who won't take advantage of me… That kind of stuff.
Fiancé(e): No.
Sexual Orientation: Straight.
What Do You Look Like?
Hair color:  Lilac.
Eye color: Blue-Grey
How Tall are you: 5ft 2in.
Tattoos:  None, but I would like some.
Piercings:  Just ears for now.
Style:  I really like dresses and skirts, but they're not very practical, so I've been living in jeans and t-shirts for a while now.
What you look like: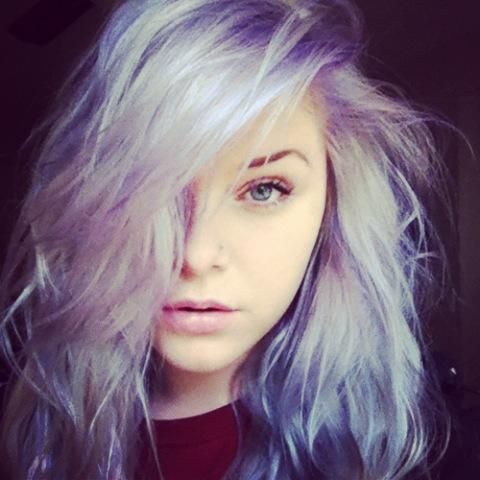 Main forms:
Wolf:
Rottweiler:
Owl:

Similar topics
---
Permissions in this forum:
You
cannot
reply to topics in this forum