Last edited by Wolfsoul on Sat Jan 19, 2013 10:47 pm; edited 176 times in total
Admin




Posts

: 70518


Join date

: 2011-06-19


Age

: 24


Location

: In Arendelle, chilling with Princess Anna and Queen Elsa



Who Are You?
Full Name:
Abigail Wilson
Called by?:
Abby
Gender:
I'm a girl!
Birthday:
15th November
Age:
It's actually more complicated than it should be. Let's just go with the age I look, which is 23.
Mom:
Giselle Caldwell, unfortunately
Dad:
Jeremy Wilson
Siblings:
Zack Connor Wilson, jerk -_-
What Are You Like?
Personality:
When you first meet me, I can be cold, distant and uncaring. I tend not to let anyone into my life and have mental barriers everywhere so that no one can ever really get to know me (Only Holland has ever really succeeded). When I get angry I smash things to pieces and seriously injure people and I put survival first, but still fight with my pain in the butt angel side every now and then, especially when hunting -_- But, you know, every coin has two sides and if you were to meet me on an off day, I'd be a little nicer. My ex managed to unlock this caring, sappy, cheerful side to me, and now that she's gone I... I've lost that side. It's been lost to sorrow and way too much alcohol, but it's probably still somewhere inside me.
Favorite/theme song:
Monster - Imagine Dragons
What are you?:
Angel-Vampire hybrid.
Talents:
I'm smart, I guess, I can fly and I can play the piano and the guitar but I only really play the guitar now. I still write songs and sometimes poetry, but I hardy ever let anyone see what I write, except my dad, Jason and Holland.
Flaws:
I have 'Intermittent Explosive Disorder', according to my old counsellor. In other words, I have major anger management issues which makes me violent. Plus I can be antisocial, quick to anger and I hate quite a few people, especially my 'family'. Sometimes I suffer from depression - mostly caused by self hatred or, you know, a dead ex fiance - and suicidal thoughts, too, and my old alcohol problem has returned.
History:
I don't wanna talk about it -_-
Love Life?
Married To:
No one.
Children:
NEVER!
Past Boyfriend/Girlfriend:
Trent Alcatraz, Rose Hathaway, Holland Pierce
Current Boyfriend or Girlfriend:
None
Your type:
I kinda like bad*sses who aren't afraid to speak up when I'm being a b**** and can put up a fight, but also have a softer side and aren't afraid to say that they love me and show me affection. I think that, with all the c*** I've been through and all the c*** I put myself through, someone who can make me feel loved is kinda important.
Fiancée:
None
Sexual Orientation:
Bisexual (Leaning slightly more towards women)
What Do You Look Like?
Hair color:
Red
Eye color:
Metallic blue.
How Tall are you:
5ft 7in
Tattoos:
A pawprint on my left shoulder blade with 'Jupiter' written under it, and two birds in flight on the side of my left ribs.
Jupiter tattoo:
Birds tattoo:
Piercings:
None.
Style:
Rock chick stuff. Skinny jeans, converse, a couple t-shirts from Abbey Dawn and a bunch of wristbands and hats... That kind of stuff. *Shrugs.* Also I might have 'Borrowed' some of Holland's plaid shirts, even though I have my own, simply because they smell like her. They're starting to lose her scent, though, and I hate that fact.
What you look like: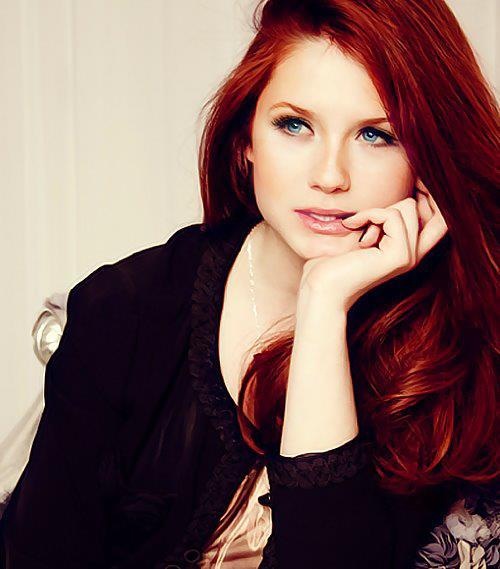 Last edited by Wolfsoul on Fri Feb 12, 2016 3:47 am; edited 71 times in total
_________________
Abigail Nathaniel Lyra Logan Calvador.
Kjærlighet Vil Tine
~Love Will Thaw~

~Centrum Permanebit~
Admin




Posts

: 70518


Join date

: 2011-06-19


Age

: 24


Location

: In Arendelle, chilling with Princess Anna and Queen Elsa



Who Are You?
Full Name:
Freakshow. Th-That's what everyone at the orphanage calls me. ((Lyra Collins))
Called by?:
I get called called Freakshow by the people in the orphanage, o-or Subject R9K by the- the men in white coats...
Gender:
Girl
Birthday:
I-I don't know my birthday. I just say that I'm a year older every time the calendar goes back to Jaunary 1st. ((27th March))
Age:
7... I think...
Mom:
I don't have a mommy... ((Suzan Collins))
Dad:
I-I don't have a daddy ei-ther... ((Drew Collins))
Siblings:
No one really likes me so... ((None))
Where did you grow up?:
In the orphanage, but in the big white building at the weekends.
What Are You Like?
Personality:
((Luna is a shy, terrified little girl who struggles to trust people, especially adults. All she wants is a friend who'd be really nice to her but her past has left her with difficulties socialising and finding the courage to socialise. If you prove yourself to be a nice person - which may take a while - she'll open up more and prove herself to be a sweet, cuddly  little girl who barely knows anything about herself, let alone the world outside the cruel, cold walls she has been used to for so long.))
Favorite/theme song:
((None at the mo))
What are you?:
I... I don't know and I don't think the guys in white coats know, either, but I'm not like the other kids :S
Talents:
... I... I-I can control electricity.
Flaws:
Uhhh, I, uhhh... ((Her powers are controlled by her emotions, mostly by fear, so whenever she gets scared, which is often, things will start turning on and off or light bulbs will blow or she'll accidentally electrocute people with her powers. She finds it very hard to trust people, is shy and is scared easily and will often rather hide away than show herself.))
History:
Uhhh... ((Born Lyra Collins, her parents put her up for adoption the day she was born because they didn't feel like they could handle a child at the time. Since then, Lyra lived in the orphanage, where she'd often get bullied by both the children and the adults because she was small and weak. One day when she was about 4, one of the older boys started chasing her with scissors until she found herself backed up into a corner. She was so scared that her powers - which she didn't know she even had - got out on control and she created a forcefield of electricity the electrocuted him as soon as he touched it. Ever since her powers had been discovered, she had been bullied even worse and sent to the lab every weekend to be experimented on. There was one experimenter in particular who physically abused her when no one else around, creating more fear just so that he could study her powers more (and take pleasure in seeing her in pain). The orphanage was making money from the experiments for supplying 'Subject R9K', so whenever potential parents came to adopt a kid, Lyra was always beaten so she wouldn't call for help and locked in her room for hours until the potential parents left. This lasted until she was 7 years old when she couldn't stand being beaten and insulted anymore. With only the clothes on her back, some food she stole from the kitchen and a ripped, stuffingless toy dog that her parents gave her when she was born as a goodbye present, she fled and found herself on the path towards the Immortal Mansion.))
Love Life?
Married To:
I'm only 7.
Children:
All the other children hate me :S
Past Boyfriend/Girlfriend:
Nuh uh.
Current Boyfriend or Girlfriend:
*Shakes her head.*
Your type:
What?
Fiancé(e):
No?
Sexual Orientation:
I don't even know what this is :S
What Do You Look Like?
Hair color:
Blonde.
Eye color:
Blue.
Nationality:
American.
How Tall are you:
4ft 4in.
Tattoos:
I'm not old enough, but I have lots of scars on my back and arms if that counts...
Piercings:
Nuh uh.
Style:
I-I only have one set of clothes. And they're dirty...
What you look like: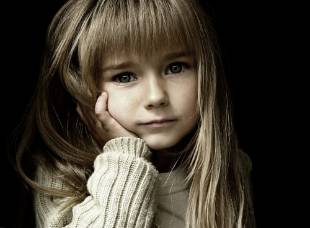 Spoiler:

9-12

13-15

16-18
[/color]
Last edited by Wolfsoul on Fri Feb 12, 2016 6:03 am; edited 26 times in total
_________________
Abigail Nathaniel Lyra Logan Calvador.
Kjærlighet Vil Tine
~Love Will Thaw~

~Centrum Permanebit~
Admin




Posts

: 70518


Join date

: 2011-06-19


Age

: 24


Location

: In Arendelle, chilling with Princess Anna and Queen Elsa



Who Are You?
Full Name:
Logan Jones
Called by?:
Just Logan. Wait, not 'Just Logan', I mean 'Logan'. But you probably... Already knew that...
Gender:
Male.
Birthday:
9th October
Age:
16
Mom:
Clara Jones
Dad:
Kevin Jones
Siblings:
Well, none right now, but I'm going to be a brother... Not that I'll ever see my younger sibling...
What Are You Like?
Personality:
Timid, shy, terrified of myself, or well, not me, but a part of me. I mostly keep to myself and am afraid to get too close to others in case I hurt them. I can be really friendly and nice, though, and I put others before myself. When my demon, Calvador, takes over, however, I turn into a vicious, cruel person who loves violence and loves to hurt others, but- but that's not me, that's all him. I'm scared of the demon and don't like what it can do, but I have absolutely no control over Calvador...
Favorite/theme song:
Animal I Have Become by Three Days Grace.
What are you?:
Calvador calls me a 'Demon host'.
Talents:
I like art. I love to draw and paint things. It's kinda relaxing for me so... Yeah... That's it, though. I suck at everything else...
Flaws:
Calvador. Everything about Calvador. He is my flaw.
Hobbies/Favourite things
Like I said, I like to paint and draw. I also like to read and watch movies. I guess that's typical teen stuff, though, right?
History:
Oh boy... So I've basically been this way since I was born; cursed to have a demon inside me since I was a baby. My parents put up with me despite Calvador constantly taking over and hurting them and I tried to try and run away from my parents a couple times but kept finding myself returning because I love them. My mom recently declared that she was pregnant again, though, and I just can't let Calvador be anywhere near that baby, so I quickly packed up as much stuff as I could and ran away for good so that I could protect my family from myself.
Love Life?
Married To:
No one. Probably never no one.
Children:
No! What if my children became demon hosts too?!
Past Boyfriend/Girlfriend:
None!
Current Boyfriend or Girlfriend:
Still done; do you really think I can date with a monster trapped inside me?!
Your type:
Uhhh... I don't know. A sweet girl, I guess, with intelligence and maybe even a more creative side. But... I dunno, I doubt anyone would want to date me so... Yeah...
Fiancé(e):
No!
Sexual Orientation:
Pretty sure I'm straight.
What Do You Look Like?
Hair color:
 Brown
Eye color:
Green
How Tall are you:
5ft 8in, but I'm still growing!
Tattoos:
 None!
Piercings:
 Also none!
Style:
 Button up shirt with the sleeves rolled up and jeans. And sweaters in the winter, of course.
What you look like: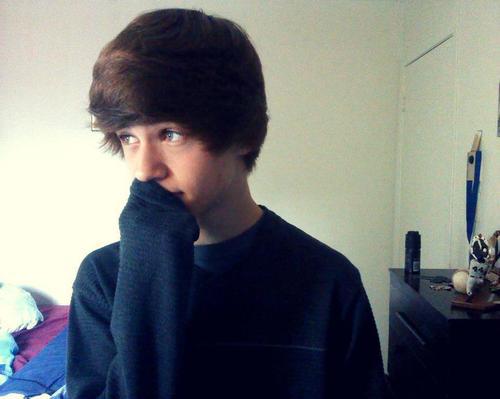 Last edited by Wolfsoul on Fri Feb 12, 2016 5:01 am; edited 27 times in total
_________________
Abigail Nathaniel Lyra Logan Calvador.
Kjærlighet Vil Tine
~Love Will Thaw~

~Centrum Permanebit~
Admin




Posts

: 70518


Join date

: 2011-06-19


Age

: 24


Location

: In Arendelle, chilling with Princess Anna and Queen Elsa



Who Are You?
Full Name:
Nathaniel Hendricks
Called by?:
I don't mind being called Nathaniel, but some people prefer to call my Nathan
Gender:
Male
Birthday:
August 29th
Age:
24, technically, but I look about 19
Mom:
Carla Hendricks
Dad:
Johnathan Hendricks
Siblings:
Riley Hendricks, my little sister.
What Are You Like?
Personality:
Uhhh... Well I'm nice, and good, and all the typical angel stuff. I'm also laid back and like to relax with a book or something. I'm pretty quiet, but I'm friendly and helpful. I'm respectful to others and can be a gentleman, particularly towards women and... Yeah... That's it.
Favorite/theme song:
No real favourite song. I just like laid-back music

What are you?:
Angel
Talents:
Healing others and flying, if they count as talents. I can read pretty fast? Maybe I can sing a little? I don't think I have many talents that are exceptional :/
Flaws:
An Angel with flaws??? I'm kidding, I have flaws. I'm awkward when I start crushing on a girl - not that that's a regular occurrence - and I'm not good at binge-watching. And maybe sometimes I can be a bit bossy, too. And competitive.
Hobbies/Favourite things
I like reading and playing board games, particularly chess and checkers. I like food, but I think most people do. I value alone time as opposed to partying, so you'll probably just find me in a corner somewhere doing some sort of silent activity to pass the time.
History:
Not much to say really. I was born Nathaniel and lived a mundane, boring life, really. Life focused around getting good grades in school and helping my parents look after my little sister, since they tended to work long hours. A couple years ago, though, I got attacked by a guy who clearly thought I had money (I have no idea where he got that idea!) and that I was an easy target and... Yeah, I got murdered. Anyway, I went to Heaven then and remained there for 5 years until now when I've been assigned to keep an eye on a half-angel woman who's been on our radar for a while now. I don't think she likes me very much, but at least she's not pushing me away, I guess.
Love Life?
Married To:
Pfft! No one!
Children:
None either!
Past Boyfriend/Girlfriend:
I've had crushes, but I've never really been good at flirting or anything so they didn't go anywhere.
Current Boyfriend or Girlfriend:
Nope!
Your type:
Ummm... Girls that are like me, I guess, mature, laid-back, intelligent, friendly, nice... Things like that, you know?
Fiancé(e):
Yet another no!
Sexual Orientation:
Straight
What Do You Look Like?
Hair color:
 Blonde
Eye color:
Brown!
How Tall are you:
6ft!
Tattoos:
 Nope!
Piercings:
 No!
Style:
 Button-ups or long-sleeved shirts and a good pair of jeans!
What you look like:
Last edited by Wolfsoul on Sat Feb 13, 2016 4:09 am; edited 17 times in total
_________________
Abigail Nathaniel Lyra Logan Calvador.
Kjærlighet Vil Tine
~Love Will Thaw~

~Centrum Permanebit~
Admin




Posts

: 70518


Join date

: 2011-06-19


Age

: 24


Location

: In Arendelle, chilling with Princess Anna and Queen Elsa



Caius:

Who Are You?Full Name:

Caius Alexandros III

Called by?:

Caius, just Caius nowadays.

Gender:

Male

Birthday:

3rd April

Age:

571 biologically, but I am physically stuck at 21 years of age.

Mom:

Demetria Alexandros (Dead)

Dad:

Caius Alexandros II (Dead)

Siblings:

Marcella Alexandros (Dead)

What Are You Like?Personality:

Rather old fashioned, so unfamiliar with most things in the world - apart from the tv and internet, since I have those in my apartment. I keep to myself and try to go unnoticed, however I'm quite sure that if someone were to talk to me, I would try to understand what they are saying and talk back, though the conversation may not last long due to vast differences in vocubulary, lifestyles and such. Once I meet people, however, I can be quite friendly, willing to help out with any needs that they have, although I sometimes struggle with children.

Favorite/theme song:What are you?:

Immortal. Simply that. Human yet I will never die or get hurt.

Talents:

I learnt how to fight with a sword as a child, and I also know how to play the piano. Plus it was customary for a prince to know how to waltz, and I suppose I am a rather good leader, so they class as talents as well.

Flaws:

I'm very out of touch with the modern day culture and language and such, which makes it rather hard for me to socialise with the residents if they speak strangely...

History:

Spoiler:

I was once a prince and was born immortal, however when war hit the country and no weapons seemed to affect me, not even catapults, my secret was revealed and I was imprisoned as my people tried to think of a way to end my life. James found me and liberated me from imprisonment - I owed the man my life - before he started to tell me about his plans to create a mansion for others of our kind. I agreed to help and soon quite a few others joined, becoming like siblings to me. As times changed and my siblings passed away, James and I stuck to the shadows of the mansion. We built a luxurious apartment in the attack for myself and James where no other Immortals would find it and now I spend my time in that apartment, barely leaving it unless for something important. James and I fell in love and were quite the couple, however it didn't last. James just suddenly disappeared from the mansion one day, and no matter where I searched - and I had searched pretty much every town in every country on every continent - I couldn't find him. I was going to keep looking, but Jeremy called me, talking about his idea to create a school for the young immortal children who would not 'Fit in' with the human children at a public school, and he needed my assistance, so I returned and left my dreams of finding James behind. However, my dreams came true when James returned after the mansion was the victim of a scheme to deprive vampires of blood and I thought it best to propose before he ran away from me again, so I did, but it was all in vain... James passed away the following month... I never saw it coming, nor did I get to say goodbye. He just disappeared one day and I felt as if his spirit had truly left the mansion... Now, apart from a few friends whom I rarely speak to, I am completely alone, wondering whether or not I will share the same fate as the man I loved.

Love Life?Married To:

No one.

Children:

I have none and will never have any.

Past Boyfriend/Girlfriend:

James Richard Knight...

Current Boyfriend or Girlfriend:

None

Your type:

I could not possibly say, everyone here is so different from myself that I can not possibly tell what kind of person would make a good partner. But possibly someone from the ancient times, who would understand why I struggle with the modern era and knows what things were like back in my day.

Fiancé:

None

Sexual Orientation:

Gay, and proud of it.

What Do You Look Like?Hair color:

Black

Eye color:

Violet/Purple

How Tall are you:

5ft 6in

Tattoos:

None

Piercings:

None

Style:

Style: Long sleeved button up shirt and black trousers - I try to remain as modern as possible. My shoes are well polished black leather shoes, my socks are plain black and my underwear is... Well, underwear.

What you look like:

((That's what he used to wear as a prince.))

More about Caius:

Caius Alexandros III:



Born April 3rd, 1442 under the Roman Empire (Hence the Roman name XD)


At the end of the Roman Empire in 1453, his father was made the king of Italy. Caius became a prince at 11 years old.


A small war broke out between Italy and France in 1463 and Caius, wanting to help out and being a trained swordsman, joined the soldiers (He was 21 at the time and would remain that age for eternity)


After being severely injured beyond survival and then suddenly healing completely, he was discovered to be immortal. Fearing that this meant that he was evil and dangerous, Caius was locked in a tower until the army discovered a way to kill him (Unknown to Caius, more wars started, this time over him. Some people claimed him to be a God, hence his immortality, and not evil and protested against the execution of a god).


Unable to find a way to kill him, Caius remained locked up until 1471 when James broke him out (Caius would've been 29, but he still looked 21).


They fled to America where, along with other Immortal creatures, they created a mansion for others of their kind, which was completed 2 years later on 29th April 1473 (when Caius was technically 31).


Being a raised to rule, Caius was elected the leader of the original mansion owners which looked after the mansion, making sure that everyone worked together and everything ran smoothly.


Over the years, as Immortals were being discovered, as well as the mansion, the mansion went through several attacks. Most of the original Immortals died, leaving James and Caius behind.


Seeing his role as leader as pointless now that there were only James and himself, the two made an apartment in the attic for Caius - and occassionally James if he so wished it - to live in in 1657. Since then he rarely comes out of his room unless he believes that the mansion is under attack or there is something highly important that needs to be done.

justin:

Who Are You?Full Name: Justin BridgesCalled by?: 

Justin. I don't really have any nicknames so… Yeah…

Gender: 

Male

Birthday: 

January 19th

Age: 

19. In looks, anyway. I'm meant to be 28.

Mom: 

Patricia (Trish) Mathieson

Dad: 

Demitri Bridges, although I've pretty much disowned him -_-

Siblings: 

Cassy Walcott, Lilly Valentine (Half-sister), Darkess Valentine (Half-sister)

Where did you grow up?: 

A couple towns over. I'm a local boy, kinda 

What Are You Like?Personality: 

Uhhh... Nice, but that comes with being an angel, I guess. Basically, I have an angel's kind, good personality and I tend to tease the newbies a little. I like to help others too, which usually gets me quite a few friends. I can also be a gentleman, especially when interacting with people with a higher status than me, but I think that's pretty normal for everyone, right? Then again, I don't act gentlemanly towards my father, even though he's a King. I hold a grudge against him though, and the fact that he is a demon makes it even worse, since I dislike demons.

Favorite/theme song: 

If I Could See You Again, by Yiruma. Not a singing song, but I love his compositions.

What are you?: 

Angel

Talents: 

I can heal the injured - not the sick, though - and, I can read minds, which comes in handy when you're trying to help someone. Plus, since I'm an angel, I can fly. Other than that, I can cook a little – can't most people? – and I can play the piano, though I don't tend to brag about that.

Flaws: 

Bossy? I guess I can be a bit bossy sometimes. I guess being too nice can be a flaw, too, I mean, I always put other people's happiness before my own and try to avoid conflict wherever I can, which means that I don't really fight for anything I want, especially if it can cause someone to get upset in the process. I can be a bit of a workaholic sometimes, too…

History: 

My dad left my family when I was 6 and I became the man of the house. I always looked after my sister and was really close to her and even dealt with the bullies when they picked on her and stuff and we were like best friends, rather than siblings. I died on October 13th 2006 when my family's house caught on fire (It was a Friday, too, so I guess I should've seen that one coming, huh?). I tried to save my sister from a burning wooden beam that was falling and in doing so, the beam fell on me and trapped me in the house. My sister got out alive but I wasn't so lucky and now I'm here in Heaven, helping out those who were unlucky like me and sometimes even suggesting people who deserve to become angels. I usually pick the ones who died trying to save someone else because I know what it's like to be them. It's kind of annoying now though because ever since the queen died, Lilly's demon father took over and, well, it turns out that we have the same dad. I follow orders like a good little angel, but I act coldly towards my dad for being a demon and for walking out on my family. Lilly and Darkess know, but I still don't really treat them as family; I still just see myself as a humble servant, not, technically, a prince.

Love Life?Married To: 

No one.

Children: 

Maybe one day. I like the thought of settling down and having kids, but that'll be in the future.

Past Girlfriend: 

None.

Current Girlfriend: 

None!

Your type: 

I don't know, just a beautiful girl with a kind heart? Someone who loves her family. It'd help if I could relate to them somehow, too, but that's not really necessary. I like the thought of a girl who's so much more than meets the eye, like on the surface she seems one way, but underneath she's a lot more than that, if that even makes sense…

Fiancé(e): 

None!

Sexual Orientation: 

Straight, definitely.

What Do You Look Like?Hair color: 

Brown

Eye color: 

Also brown

Nationality: 

American

How Tall are you: 

5ft 10, 5ft 11, somewhere around there.

Tattoos: 

None

Piercings: 

None

Style: 

White long sleeved t-shirts with cuts in the back for my wings and white trousers. Maybe if it's cold I'll throw on a jacket and a scarf. Sometimes on special days I'll wear pastel colors and maybe even jeans, but it's mostly white for me!

What you look like:
Last edited by Wolfsoul on Sat Feb 13, 2016 2:56 am; edited 7 times in total
_________________
Abigail Nathaniel Lyra Logan Calvador.
Kjærlighet Vil Tine
~Love Will Thaw~

~Centrum Permanebit~
Admin




Posts

: 70518


Join date

: 2011-06-19


Age

: 24


Location

: In Arendelle, chilling with Princess Anna and Queen Elsa



Abby's stuff:

Belt

Belt

Dog tag necklace

Bracelets

Hoodie

Jacket

Pyjamas

Pyjamas

Pyjama bottoms

Crop top

Crop top

T-shirt

Long-sleeved t-shirt

T-shirt

T-shirt

Long-sleeved t-shirt

All-in-one shirt

T-shirt

Tank top

Tank top

Tank top

T-shirt

T-shirt

Converse

Shorts

Shorts

Bikini

T-shirt

Converse

Skillet T-shirt

Scarf

Water fight outfit

Outfit

Leather Jacket

Outfit

Outfit

Outfit

Outfit

Guitar

Jupiter
Abby's poems and songs:



I am the sun
There's not a cloud in the sky
There never is when the sun comes out to play
The clouds run away, leave the sun on it's own
All alone
Friendless.
No one pays attention to the sun
Birds fly past it, but know not to get close
Because the sun is dangerous.
All day the sun stand in isolation,
Knowing that no one will come near it.
The cold, dark moon and the starts that surround it
Draw nearer and nearer.
They push the sun away
Forcing it to hide behind the sea
To drown itself in it's lonely sorrow.
The process is repeated day after day
And then one day the sun will explode
And take the moon
The stars
Everything
Away.

Colorful love
Roses are red, violets are blue
You say you like me and I like you too

But my life's as black as my jacket of leather
They'll make yours the same if they see us together

I'm trying to proctect you, my angel in white
I'm trying to stop them from hurting my knight

I'm trying to keep them from putting you down
From bringing sorrow to your eyes, that deep shade of brown

Just be with that other girl, with cheeks shaded pink
I'm surprised you're taking this long to think

It's her who you'll be happy with, with whom you can be seen
Your friends will adore her and I wont turn green

So just look into my eyes, as blue as the sea
You'll see that as long as you're happy, I'm as happy as can be

Even if you're not in a relationship with me.

Girl in a shoe

There once was a girl who lived in a shoe
She had so many problems, she didn't know what to do!

Then along came her knight on a noble white horse
And who was this knight? Her Trenty, of course!

He made her laugh, he made her smile
She even forgot her problems for a while!

As she hugged him, a light switched on above
As she realised this could be the start of true love.

And as they spent time together, her heart did mend
And Abigail wished the love would never end.

River of life
We are but leaves on the river of life
It bends and turns
Sometimes it's rough
Sometimes there are torrents
But there is nothing we can do but ride the flow of life
Until it deposits us at our final resting place
Some journeys will be long
Some journeys will be short
But one thing's for sure:
The journey is the same for every leaf on the river of life
No matter how different we are.

Songs
I'm with you (Written and composed)
Losing Grip (Written and composed)
What The Hell (Written and composed)
Heres To Never Growing Up (Written and composed)
Runaway (Written)
Innocence (Written and composed)
Forgotten (Written and composed)
Rock N Roll (Written and composed)
Those Nights ((By Skillet, but a female version)) (Written and composed)
Sippin' on sunshine (Written and composed)
I hate you, don't leave me ((By Demi Lovato)) (Written and composed)
I Wish You Were Here (Written and composed)
Never been hurt ((By Demi Lovato, piano version)) (Written and composed)
Hot (Written and composed)
Bitchin' Summer (Working on it)
Last edited by Wolfsoul on Sat Feb 20, 2016 12:23 pm; edited 28 times in total
_________________
Abigail Nathaniel Lyra Logan Calvador.
Kjærlighet Vil Tine
~Love Will Thaw~

~Centrum Permanebit~
Admin




Posts

: 70518


Join date

: 2011-06-19


Age

: 24


Location

: In Arendelle, chilling with Princess Anna and Queen Elsa



Abby's room:
Caius' apartment:
Justin's apartment:
Last edited by Wolfsoul on Fri Feb 12, 2016 3:35 am; edited 1 time in total
_________________
Abigail Nathaniel Lyra Logan Calvador.
Kjærlighet Vil Tine
~Love Will Thaw~

~Centrum Permanebit~
Admin




Posts

: 70518


Join date

: 2011-06-19


Age

: 24


Location

: In Arendelle, chilling with Princess Anna and Queen Elsa



pyjamas:


Abby - Normal t-shirt/Tank top and pyjama bottoms
Justin - Pyjama bottoms and a normal t-shirt
Luna - Whatever clothes she has
Logan - Pyjama bottoms and a t-shirt
chest hair:


Justin - Yup!
Logan - The tiniest bit
Writing hand:

Characters' writing hand:
Abby - Left-handed
Justin - Right-handed
Luna - Right-handed
Logan - Right-handed
Abby's medication:

Abby's medication:

- Lorazepam (Injection), anti-anxiety, taken once per morning.
Side effects:
•Feeling drowsy
• Tiredness
• Feeling dizzy
• Weakness (Weak for a vampire but still strong by human standards)

- Lithium Carbonate (Tablets), mood stabilizer, taken once per morning.
Side effects:
• Dry mouth
• Feeling dizzy
• Loss of appetite
• Thirst
• Nausea (Ocassionally)

On top of these side effects she also suffers from:
• Depression
• Suicidal thoughts (Ocassionally)
• Headaches (Ocassionally)
Abby stories:

Mother-daughter time:

If anyone had told me 5 years ago that'd I'd be married to a woman who truly loved me, mental disorder and all, I'd completely deny all possibility. I used to think that there was no one who could ever love me with my mental disorder - that'd even those who tried would eventually give up, unable to cope with me - but now I was looking at the living proof that I was wrong.

Granted, I should've been helping Holland dust the bookshelves, rather than just lounge around on the couch, but in my defence, I had vaccumed the entire house yesterday, and washed the laundry. Besides, sometimes I just liked to watch her and appreciate how amazing she was. The years hadn't dimmed her radiance, nor had it made her any less beautiful. Of course, that was probably because she was a Vampire like me now, but it still amazed me how beautiful she was, and how kind and understanding she was as well. I mean, sure we had our little arguements - most couples did - but we always stuck toge-

The wind was knocked right out of me as something - or, rather, someone - landed on top of me. If anyone had told me 5 years ago I'd be married to a woman who truly loved me, I would've denied it, but if they'd told me I'd be a mother, I would've called them insane and thrown them into a padded cell myself!

'What'cha doing?' Alexis, mine and Holland's adoptive daughter, asked as she sat on top of my stomach. She was 5 years old, almost 6 - she wouldn't dare let us forget-,  with the tomboyish fiestiness of both me and Holland combined, but with the energy of someone who'd chugged, like, 20 cans of energy drink one after the other. The little girl with light brown hair and deep blue eyes was only meant to refer to me as Abby - and refer to Holland as mommy - but she often slipped up and called me her mother. Actually, I think mommy was slowly becoming her favourite thing to call me, which felt... Odd.

"Nothing, Lexi," I answered with a shrug as soon as I was no longer winded, glancing over towards Holland. "I'm just admiring your mom." Even with her back turned away from me, I could tell that my wife heard, and I smirked, knowing the effect that the moments when I was openly affectionate, especially around other people, had on her.

Alexis clearly didn't get what was going on - she was too young to understand love - and gave me a confused look. 'Why're you admiring mommy?' She asked, to which I raised an eyebrow, an amused smile on my face.

"Why're you so curious, George?" I teased, sticking out my tongue at the kid, which gained a giggle, a giggle I loved to here because it actually meant that, despite all my worries prior to adoption, I was doing this parenting thing right.

'I'm not called George!' Lexi protested through her giggles, but her protests were to no avail.

"True, you're not called George, but you certainly are a monkey!" Without warning, I unleashed a tickle fight on the unsuspecting child, one which caused our dogs, Jackson and Mercury to wake up and start barking at us. To be honest, Alexis put up a pretty good fight for a human kid, but, despite her abundance of energy, my stamina won and she gave in.

The dogs settled down once my daughter gave in. Alexis spent a moment catching her breath, then suddenly leaned down and wrapped her arms around my neck. 'Love you, mommy.' She told me. For a moment I just lay there in shock. Even after, what, 2/3 years of having Alexis in our lives, it still shocked me when she said she loved me. I used to think no one could truly love me despite my flaws, then I thought that only Holland was capable of that, but now... Alexis knew that I could get very very angry, and she had, unfortunately, witnessed one of those moments before, but she still saw me as her 2nd mom and loved me unconditionally, just like Holland. It warmed my heart to know that someone else was capable of that kind of love, especially someone as young and innocent and... And pure as Lexi.

Wrapping an arm around her, I murmured a gentle, "Love you too, kid." Before sitting upright and stretching my arms. "Now, how about we help mommy tidy up, huh?" With a nod, Alexis hopped off of me and ran off of join Holland. I rose, too, and smile affectionately at my two favorite girls.

It was amazing to think about all the s*** Holland and I had gone through in our lives, and how it had somehow, miraculously paid off. I don't think either of us ever really thought we'd have a family - we were too fearful of the mental disorders that hung over both of our heads - but here we were now, married and with a daughter that adored us and that we adored back. And sure, our family wasn't normal in the slightest and we'd probably never be normal but I had never been happier and, to be honest, I'd take my little family and the happiness it brought me over being normal any day!

Consequences - Chapter 1:

Usually I enjoyed returning home from work. Since my hours changed, I usually finished a couple hours before Alexis got out of school. The earlier starts were harsh on my medication and it's pain in the *ss side effects, which I used to be able to sleep off but didn't have time to do now, but on the plus side I got to spend some some time with Holland, who worked during the nightime 4 days a week, and having the house to ourself for a little while often meant that things got interesting and clothes went flying, so it was all worth it. As I walked home from work today, I was anticipating my alone time with Holland and the sex that would come with it.

But as I walked into the house, I was met by folded arms and a glare. Oh gosh, sex just went out of the window. "Well someone looks awfully chipper." I commented sarcastically with a smirk, taking a few steps towards my wife before deciding that it probably wasn't a good idea to get too close right now.

"Don't start, Abigail, you're already in enough trouble as it is." Holland explained, to which I raised an eyebrow. As I moved to sit on the arm of the couch, she added. "I got a call from the school about 20 minutes ago. The principal told me that Alexis punched one of the other students right in the face. Now who was it who told her last week, and I quote, 'If anyone picks on you again, just punch them in the face'?"

The smirk was wiped off of my face immediately. F***, I really was in trouble! "It's not as if... I mean... Come on, I meant it as self-defence! Like, if one of those bullies tried to hurt her, she should fight back! For all we know, one of those kids could've been trying to make a grab for her and she just defended herself." I said in my defence. When that didn't work, I stupidly tried throwing my wife under the bus as well. "And it's not as if I'm entirely to blame, here. You've let her watch you play Tomb Raider before and that's pretty damn violent!"

There was more anger in Holland's eyes for a moment, but then another look crossed her features and within seconds the anger was gone. Heaving a sigh, she ran a hand through her wavy brunette hair and sauntered over to where I sat. "Well, either way, the principal wants us to go to the school and talk to her ASAP... But she doesn't need to know that 'ASAP' is now." Her voice had taken on a seductive token, her hands moving to my hips. Even after all these years, she still had a major effect on me, giving me butterflies from just the simplest actions.  Even the way she was biting her lip right now…  It was both sexy and adorable at the same time in that way that was uniquely Holland and it made it incredibly hard to resist her - to refuse to give her anything, even if she asked for the world. "We can afford to postpone things for half an hour to have a little alone time, don't you?"

I could tell from the look in my wife's eyes exactly what she meant by 'Alone time', and all that anticipation from a couple minutes ago returned, flooding my body with adrenaline and making my heart beat faster. If this was what she was asking for, I certainly wasn't going to refuse to give it to her! As I took in the smirk Holland was now showing off, I could only bite my own lip, mentally swearing at how whipped I was by this beautiful woman, and nod my head in agreement.

Without much warning other than a mischievous grin, I was pushed back so that I fell onto the couch and a moment later Holland was pressing me back into the couch, straddling my waist and leaning down to capture my lips with hers. I was completely lost in that kiss, which burned with so much passion that it took me by surprise a little. Still, I responded eagerly, cradling Holland's head in my hands and tugging on her bottom lip with my teeth to gain some semblance of control. She wouldn't have any of that, apparently, quickly gripping my wrist and pinning them above my head, trailing her lips lower so that I couldn't try any more funny business like the lip-tugging thing again. As soon as her lips found my neck, I was moaning, and cursing Holland for making me moan, both out loud and in my head. She knew that the neck was one of my weak spots, and she was taking full advantage of that right now, kissing every inch and flicking her tongue against my pulse point. As soon as her fangs grazed the sensitive skin, I was desperate for her. She'd hardly done anything, and yet she'd done it so skilfully that it set my whole body on fire and I needed her right now.

And then she was gone. She just got up and started heading towards the door, leaving me confused and a little more than p***ed off. "What the f***?!" I exclaimed as I sat up on my elbows, my expression showing all the annoyance and confusion I felt as whatever turned-on feelings I had a couple seconds ago started fading away.

Holland, one hand on the handle, turned to face me, and only now did I realize that the smirk I had mistaken for a seductive one was actually a cunning, vengeful smirk. "Rule number 37, Abby: Don't ever try to shove the blame onto me or you will end up being punished. Now come on, let's go and deal with our daughter. I'll drive."

So that had all been revenge for throwing her under the bus?! I groaned frustratedly, running a hand through my fiery hair before complying, simply because I knew there'd be no way to persuade Holland to finish what she started, especially when there were important issues to discuss with Lexi, like when it's appropriate to hit someone. Grumbling, I rose to my feet and trudged out of the door with my cruel wife following closely, a smug smile on her face at her sweet revenge.

Damn it, that woman was going to be the death of me.

Consequences - Chapter 2:

I was fairly silent in the car while we drove to the school, my legs crossed as my body still burned slightly with need. Holland had played a cruel, cruel game, and I was going to be sure to get my revenge later, but now was not the time to think about my sexual frustration, now was the time to focus on getting my daughter out of major trouble for my mistake. Don't get me wrong, Lexi was still going to get punished a little, but maybe I could get the principal to go a little easier on her.

Holland knocked on the principal's door and, once we entered, we found Alexis sat on one of the little kids' chairs, clearly brought into the room from her classroom, in the corner while Mrs Chester sat at her desk, a stern face on her fairly young features – or maybe she just seemed young because her blonde hair was pulled back into such a tight ponytail it was practically giving her a facelift. The moment our teary eyed daughter spotted us, she got up and ran over. "Mommy! Abby!" She called as I crouched down to receive her hug, rubbing her back as more tears fell.

"Shh, it's ok, kid." I murmured gently, though one look at Mrs Chester told me it was anything but ok. "Don't worry, we'll get this sorted out."

"Mrs Wilsons, if you would please take a seat." The 30-ish year old principal gestured to the two comfy-looking chairs in front of her desk. Holland and I obeyed, with me releasing Lexi so that she could clamber onto her other mom's lap and cuddle her too. After a moment of tense silence, Mrs Chester spoke up again. "We have zero tolerance for violence at this school. What Alexis did was completely unacceptable."

My much more level-headed wife was the one who answered first. Maybe she thought that I'd cause an argument if I spoke. To be honest, I probably would've, because as demonstrated several times before, I was very protective of Lexi, and clearly this whole ordeal was upsetting the poor kid. "What exactly did Lexi do, Mrs Chester?" Holland spoke calmly, one hand absent-mindedly stroking our daughter's hair. "I mean, I know that over the phone you mentioned her punching someone in the face, but what damaged was caused?"

Alexis' principal leaned forward in her chair as her forearms rested on the large oak desk, her eyes narrowing slightly in the direction of my daughter. I could feel my nails digging into the wood of my own chair as I tried not to glare daggers back at her. "Luckily Lucy Simmons will only have bruises, so the school nurse says." Bruises? We were only here over some bruises?! "But that doesn't make any of this ok."

"And what if this Lucy Simmons was trying to hurt Lexi?" I snapped harsher than I should have towards the woman who could very easily expel my child. "What if Lexi was just trying to defend herself? Is it not ok for a child to defend themselves from an attacker?"

Mrs Chester's face went red; she clearly knew where Lexi got her aggressive from now. She finally turned her gaze away from my emotional and frightened little girl, narrowing her eyes at me instead. There was a pause for a moment as the witch tried to formulate a response. Luckily, she gave up, simply responding with. "Their teacher didn't see what was happening prior to the punch. Rosie is too shaken up to talk and 'Lexi' won't speak at all."

"That's because you terrify her, you-!" Holland's hand slipped into mine at that moment, giving it a gentle squeeze. It was both her silent way of telling me I was l starting to lose my temper, and it was an action to soothe me. My eyes shut as I took deep breaths, focusing on the feel of my wife's warm hand in my own as I tried to relax. Once calm, I re-opened my eyes, releasing Holland's hand so that I could take Alexis from her. Settling her in my lap so that she faced me directly, I spoke to her and only her, ignoring the others around us. "Hey, can you tell me what happened, little Lex Luthor?" I asked with a small smile at the teasing nickname.

It took Alexis a moment to respond as she rubbed her eyes and sniffled, but I was patient enough - with her, at least – to wait it out. Eventually she murmured out a, "Rosie called me a boy."

Not self-defence. Although Lucy been picking on Lexi, it wasn't in a violent way, and it wasn't enough to justify punching her. So this was all my fault, even more so since I chose Lexi's outfit today. To be honest, when I made Alexis wear her Seattle Mariners baseball jersey, jean shorts, navy blue sneakers and a navy snapback, I had thought she'd look adorable. I knew she'd look like a tomboy, because that was simply what she was, but I never thought that anyone would actually try to insult her by calling her a boy. Once again, I didn't think of the consequences and now my daughter was paying for it. Well, unless I could somehow change that.

"Mrs Chester, I know things look pretty bad right now, but please don't blame Alexis for this." Considering I was shouting at her a minute ago, my pleading took the stern principal by surprise, and I had a feeling that didn't happen often. "It's a misunderstanding that's entirely my fault. I told her that if people picked on her she should punch them, but I meant it as self-defence against physical harm, not… Name calling. It's not Lexi's fault I'm bad at communicating what I really meant, so if anyone deserves to be punished, it's not her, it's me."

Silence. Mrs Chester pursed her lips, thinking things over. Hopefully thinking about letting Lexi off the hook, but maybe that was too much to hope for. "Unfortunately, Mrs Wilson, I can't punish you, so I will have to punish Alexis." Yup, too much to ask for. I mentally cursed. "However, since you insist on taking the blame, I will not take drastic action against her." Oh thank goodness! A breath of relief escaped my lips as she continued. "Alexis will write an apology letter to Lucy and be given extra homework for two weeks. If she fails to comply with these terms, there will be more serious consequences in store, understood?"

That last question was directed towards Lexi, who had turned around a little in my lap to see what the verdict was on her first act of violence. I doubted she even knew what 'Serious consequences' meant but she nodded her head in understanding anyway, knowing that she had to be on her best behaviour.

"Good. Then, I suggest you go and talk to Mr Hingston about Alexis' extra homework, then take her home for the day. The last thing we need is for her to attract the attention of her fellow classmates and cause an uproar."

After kissing up to Mrs Chester for a little while, and then receiving the extra homework from Alexis' teacher, Holland and I buckled her up in the car and start driving our little girl home. Once again, it was Holland at the steering wheel – just like I was obsessed with my motorcycle, she seemed to be obsessed with this car – not that I minded, since it meant that I could just sit back and relaxed.

Halfway through the drive, I looked into the rear view mirror and noticed that a certain little someone had fallen asleep. "Huh, I guess all that crying tired her out." I murmured, mostly to myself although I knew that Holland would overhear me.

"I guess so." She agreed, taking her eyes off the road for a split second to smile at me before focusing once more. "By the way fessing up to telling Alexis to punch people was really good of you, Abby. I mean, the way you stood up for her was really sweet."

Sweet, huh? I wasn't exactly meant to be sweet. I guess becoming a mom had kinda ruined that but a part of me still desperately clung onto the bad*ss bravado I once had before I had gone soft. "I just didn't want to get her into more trouble than she deserved." I responded with a shrug of indifference, to which Holland rolled her eyes, yet the smile still remained on her face.

"Still, you did the right thing." Holland then added, "I'm actually a little surprised by it, to be honest, considering you tried to shift the blame onto me earlier."

At the mention of earlier, the memories started flooding back, as did a ghost of the heat I had felt during that moment. My legs crossed again, then uncrossed as I bit my lip. "Yeah, about what happened earlier, is there any way I can convince you to continue what you started?" I asked, glancing over at the woman that had unfairly left me wanting more.

Holland's smile turned into a smirk, and this time it was definitely a seductive smirk, not a mischievous smirk. "Maybe." She played coy for a moment, but that didn't last long as she reached down and started rubbing her hand against my thigh in a way she knew I loved. "Maybe you've earned it."
It was my turn to smirk and tease now, glancing down at my wife's hand, then looking back up at her before chastising her with a, "Hey, both hands on the wheel, Mrs Wilson."

"Don't tell me where to put my hands now and you can tell me exactly where to put them later." Her response came quick and, as a shudder travelled down the length of my spine at her audacity to say those words allowed, there was only one word I could answer with.

"Deal."

Protection from harm:

I used to love the daytime, but now nighttimes were pretty damn awesome too.

Mornings had been dedicated to getting Alexis to school, daytime had been dedicated to work, the afternoons, apart from the 90 minutes before Lexi came out of school, were dedicated to mother-daughter time, but the nighttimes? They belonged to me and Holland. Whether is was 7pm on a day that Holland didn't have to work or 2:30am after walking my wife home, it usually involved snuggling on the couch with a movie or tv show or, our personal favourite, Orange Is The New Black, and then having a make-out session before going upstairs and having sex. It also involved falling asleep together - or the vampiric version of sleep in Holland's case - with me as the little spoon. Holland's arm around me made me feel protected, secure, loved. It was sheer bliss.

That bliss was destroyed just as I was falling asleep one night. The door burst open with a bang that caused me to sit upright. I was lucky that the colder weather meant that Holland and I actually put our pyjamas back on tonight because within seconds a little body had flung itself onto the bed and clung onto me. "What the heck, Alexis?!" I hissed, "You know you're supposed t-" 'Abby...' My wife interrupted me and as I looked her way I could see the concern in her eyes. And then I heard the sniffling. Coming from the tiny human in my lap.

I tensed, going on the defensive immediately at the sight of my sobbing daughter. What had caused this? Was she ok? "Hey, what's up?" My voice didn't come out soft enough for a crying child, but I was too panicked to care, already lifting up one of her tiny arms to check for wounds. "Did you hurt yourself? Are you bleeding." I could see Holland rolling her eyes at me in my peripheral, obviously picking up on something that I hadn't. I gave her a confused look, seeking the answer, but it didn't come from her, it came from Lexi in a muffled, 'N-Nightmare.'

Ah. A nightmare. I rarely got them anymore, but I remembered when they used to plague me all too well. I remembered that the nightmares got so bad sometimes that - and this was before I met Holland - I used to try and drink away the memories of them, and fail. Yeah, nightmares were terrifying, and my 8 year old daughter was suffering with them now. My body relaxed a little, my arms wrapping around her comfortingly as one hand rubbed her back. Holland soon joined in the hug and I gave her a sad smile in return. "You can go back to sleep," I murmured softly, "I've got this." but she just shook her head at me. 'I'm not the one who needs sleep. I can take over, if you want.' She responded, but I didn't even respond to that, and just focused my attention back onto Alexis.

"Lexi, you wanna talk about your dream?" I asked. There was no answer for a moment as her body shook with sobs, which caused me to hug the little girl a bit tighter. That continued for a couple minutes until, 'Th-They were after me.' The tension came back. People were after her in her dream? Did that mean there was something going on at school? Were those damn bullies picking on her again?! 'Who were, Alexis?' Even Holland's voice showed worry, though she was a lot calmer than I was right now, so it was probably good that she spoke up. 'The- The people with pointy teeth, like you and mommy.' And then my world shattered.

Vampires. Vampires haunted my daughter's dreams. People like me and Holland, evil creatures who preyed on the weak and innocent... When Holland and I had agreed that we'd never lie to Lexi about who - what - we were, we had thought we were doing the right thing, but had we really just opened our little girl up to a brand new fear? A brand new, completely real nightmare? 'I-I tried running, but they were really fast and I- I-I-' "Shhh." I interrupted, cradling the kid to me and stroking her hair as Holland moved in to take over rubbing her back. The tears were falling again and I had to force back a few of my own. Most parents could tell their kids that their nightmares weren't real, but I couldn't. How was I supposed to fix this?

'Lexi, you know we wouldn't let anything like that happen to you.' Holland to the rescue! I jumped on the band wagon as soon as possible. "Yeah, Lex, no other people with pointy teeth are going to get to you, you wanna know why?" For the first time tonight the mini Holland looked up from my chest, her eyes glistening with tears which I quickly brushed away. She nodded her response and I couldn't help but grin mischieviously as I answered, "Because your moms are stronger, and faster, and we'll kick those pointy-toothed people's butt before they can lay a finger on you!" Beside me, Holland gave a smile and a nod in agreement, and pretty soon after a little smile formed on Alexis' face. 'You have nothing to worry about, Alexis,' Holland reiterated for the kid's sake. 'We'll both protect you from anyone who tries to hurt you, whether they're big bad Vampires or something else entirely, ok?' Lexi nodded, wiping a few more tears from her eyes, and I could feel a weight being lifted from my chest now that she was ok, again. "Come on, kid, you can sleep with us tonight. We'll keep you safe."

10 minutes later and Alexis was wedged in between Holland and I, our arms wrapped around our daughter as she slept peacefully. I watched her for a moment with a soft smile on my face before I looked up and met Holland's gaze. 'You were really great, you know.' My wife murmured quietly so as not to wake the kid. I gave the tiniest shrug in response, but I couldn't let myself take all the credit. "You helped. Besides, it was nothing, I just... Remembered that, when I used to have nightmares, all I ever wanted was someone who made me feel protected." A look of confusion crossed Holland's face. 'You had nightmares?' "Yeah, before I met you. But I guess that, once I found someone who'd protect me if something bad happened, they stopped, and now I can just focus on protecting others. Well, two other people, at least."

I could see my own adoration reflected in Holland's eyes at that moment, the 'How did I get so lucky?'s running through both of our minds as we thought about our past lives - all the many people who failed to protect us - and our lives now. After a moment or two, Holland rolled her eyes. 'You're such a sappy person, Abby.' I couldn't help but laugh at that comment, which was odd because a couple years ago I would've glared and denied such a thing. But now all my walls had been broken, I'd learnt that I didn't need a tough persona anymore and that being sappy didn't neccessarily mean I was weak, it just meant that I had completely fallen in love with a very special person. "You still love this sap, though, right?" I checked, just to be on the safe side, and my vampire wife carefully leaned over our daughter to give my a soft kiss and whisper, 'Of course.' A huge grin spread across my face as Holland lied down again, and I briefly reached up to tuck some stray hair behind her ear. "Good, because I love you too." There was so much more I could've said, but tiredness was creeping in, making my eyelids droop. Before I fell asleep, I mumbled a quiet, "Goodnight Holland," then glanced down at Alexis, whispering, "Goodnight, little Lexi." And then I was out like a light.

Yup, nighttimes were most definitely the best.

Don't mess with Alexis:

Our daughter had started school a couple months ago, but Holland and I still liked to take her to school and pick her up because, well, we were new to this and wanted to drag it out for as long as possible. Besides, Alexis always ran up to us with the biggest grin on her face and hugged us to death, and I kinda liked it; I liked the fact that someone besides Holland was so excited to see me. Holland and I still got a couple looks here and there, but stares had never stopped us before we became moms and it certainly wasn't going to stop us now!

'You know, I think Alexis said that she had an art project to do today.' Holland mentioned as we walked towards the school, our interlocked hands swaying between us ever so slightly. 'I wonder what she'll draw. Do you think she'll draw us?' Smiling amusedly, I shook my head at Holland's curious thought. "Lexi told me it was a painting thing, not a drawing thing, and knowing her, she'd probably paint dinosaurs playing baseball or soccer." We both laughed at that, but wouldn't it be interesting if she did paint us one day? Or she had to do some c***py family tree project? If we were put on that family tree, that'd be... Amazing. I've never had much of a family before, and neither had Holland, so to be included in Lexi's family... Wow.

Entering the playground where the kids often waited to be picked up, we used our enhanced senses to pick up on Alexis' scent and followed it to her. What we found shattered any happiness I had felt a couple of seconds ago. Our daughter's art project lied torn up on the tarmac. And Lexi was being pushed around by a group of older boys!

I saw red. The only thought I could process was that people were hurting my daughter and that they needed to pay for it. Before Holland could even react, I was running over at a speed too fast to be human, lunging at the boy who was currently about to push Lexi. When I grabbed the terrified kid by the collar with one hand and held him up, his friends had the brains to run before they were next - in my peripheral I even saw Lexi back up a little - but right now it wasn't against me to hunt them down once I had dealt with this brat. "You little b******!" I shouted out in the playground, shaking him by the collar. "How dare you pick on my daughter! How would you like it if someone did that to you?" I went to punch the brat then, ignoring his whimpering, but before my fist could connect with his face, a hand on my wrist stopped me.

'Abby, don't.' My wife said from beside me. 'You'll get into trouble if you hurt a kid. Heck, you'll get into for doing this!' She always had to be the voice of reason, and right now I hated reason. "He deserves to pay! He hurt our daughter!" I snarled out, clenching the kid's shirt tighter and taking delight in the way he started crying. 'She's not hurt, Abby. A little shaken up but she's fine.' I tried to ignore her, the red still burning strong in my vision. It wasn't until Holland stepped forward and guided my face in the direction of Lexi that I looked away from my victim. 'Look, see? She's ok.' I didn't want to look, but I had no choice. As much as I hated to admit it, Holland was right. Alexis wasn't injured, just a little scared. But was she scared of me or the boy?

It was that thought that snapped me out of it, and I reluctantly dropped the kid before I could scare Lexi even more. He ran away crying and as I watched him, I realized that everyone in the playground was watching us - watching me. Before I could even respond to that, though, my wife was pulling me in for a hug which I melted into, my hands gripping the back of her shirt as I tried to relax. "He shouldn't get away with this," I murmured into Holland's shoulder. "They should all pay for picking on her." In response, Holland rubbed her hands up and down my back, making sure to brush them along my wings through the fabric of my shirt in order to soothe them. 'Don't worry, they will. I recognized most of them and will be calling their parents when we get home.' She explained, letting out a soft sigh and pressing a kiss to my hair. 'For now we should probably just get out of here, away from the whispers.'

And yes, there were lots of whispers surrounding us, from concerned parents and parents who simply liked to gossip.  Even some of the kids were already talking about me. I hated it, I hated my Intermittent Explosive Disorder, and I hated to be a f***ing spectacle, but no matter how hard I tried to block out the voices complaining about how 'Abby Wilson lost her temper again and almost harmed a little boy', I couldn't do it. The sooner we left, the better, but first, there was one thing I needed to do.

Giving Holland a quick 'Thank you' kiss on the cheek, I crouched down and opened my arms to my daughter. With almost no hesitation, Alexis ran into my arms for a hug - it still surprised me to this day that she had no fear of hugging me, even after one of my episodes. "You ok, kid?" I asked, feeling a tiny nod against my neck. "Good," Pulling back, I fixed the little girl with a serious look. "If anyone picks on you again, just punch them in the face. You got that, Lex?" Another nod and a, 'Yes, mommy.' I could feel Holland rolling her eyes behind me, but I paid no attention to it. Besides, after seeing those jerks run away like chickens, I doubted that she'd ever get picked on again, anyway. "That's my girl." I earned a few giggles as I ruffled Lexi's soft, brunette hair, then rose to my feet and picked her up. "Alright, lets go." Shifting Lexi into one arm, I took hold of Holland's hand, delighting in the feel of her thumb as it brushed against the back of our hand.

We left the school grounds and took Lexi out to dinner in order to cheer her up, which thankfully worked wonders. By the end of the day, I started looking at things in a different way, one that didn't present me in such a bad light like my IED usually did. I mean, sure, s*** went down today and it probably could've been handled better, but at least the kids now knew not to mess with Alexis, otherwise they'd have to deal with one heck of a protective mom.

Finding Lexi:

When I was a teen, back when I was dating Trent, I had dreams of having a daughter one day. I guess most lovestruck fools imagine having children one day, and I was no exception to that rule. I imagined us having a little girl, who we'd name Alexis, with my bright red hair and Trent's chocolate brown eyes. I thought I'd be a great mom, I mean, sure I had a mental disorder that caused me to have violent fits of rage, but I'd learn to control it and, once the mental disorder was at bay, we could focus on having a child, our little girl, our Lexi. As time passed, though, and my Intermittent Explosive Disorder got worse, I lost all hope. I clearly wasn't getting any better and would be too dangerous around a kid, and what kind of person would I be if I not only subjected my child to my rage, but also subjected them to their own rage which they'd inherit from me? I decided that I shouldn't have kids, no matter how much I wanted one. The 'Alexis' dream was a forbidden thought - something that I could see so clearly in my mind but would never allow myself to hope for - and resulted in me shutting kids out of my life, somewhat resenting them for being reminders of what I couldn't ever have.

So who'd have thought that, years later, I'd actually have a daughter?

Like I said, it took years but with the help of a high dosage of medication and an incredibly supportive partner - Holland, not Trent - I felt safe enough to actually be around children. Heck, I had even managed to play with my little cousin and her friends several times without hurting them once, so that had to be a good sign, right? I still had my moments, but they were less frequent, and Holland always managed to calm me down quickly, so with the threat of harming the child mostly out of the way and adoption meaning that we wouldn't have to worry about passing on any mental disorders, we decided to give parenthood a shot. It took several months to be certified for adoption and we almost didn't make the cut due to my IED - it might've been less frequent, but the adoption agency was still concerned about it - and Holland's criminal record but eventually, after a lot of background checks and inspections, we got the A-Ok and a few weeks after that, we went to meet the children that we could adopt at one of their open days.

Before we had already stepped into the room, Holland was having one of her worry moments. I was no stranger to these moments now, where she'd worry about the things that could go wrong, but that didn't mean they made things any easier for me. 'Are you ok?' She asked as we walked down the hall towards the room where the children were playing. 'I mean mentally, you're not feeling anxious or tense or anything, do you?' I knew what she was trying to hint at so I just shook my head. "I'm all in check. No rage mode today, not even if one of the booger-eaters were to stab me with scissors." That didn't exactly help. I quickly added, "Which they wont, of course." Then I quickly changed the subject, wrapping an arm around Holland's shoulders as I asked, "How about you? Are you feeling ok?" Stupid question, but it was answered anyway. 'I'm just a little nervous.' My wife smiled wryly. 'I mean, I know we wanted this, but it's such a big step I just... Hope I'm up to it and don't follow in... Particular shoes.' That broke my heart right there, and that kind of thought needed to be stopped before I started worrying about it to. Pulling Holland to one side in the hallway, I cupped her cheek, looking her right in the eyes. "Hey, just because we had c*** moms, doesn't mean we'll be c*** moms too." I was telling myself that just as much as I was telling Holland. "People may say that the way you're brought up determines how you act in the future, but they're wrong. We're not gonna follow in our moms' bad footsteps, heck, if anything we're gonna be even better parents because they taught us what not to do." Leaning into my hand, Holland let out a sigh and nodded. 'You're right. I'm just being silly, sorry.' With a smile, I lowered my hand, interlocking our fingers. "You're not being silly. I can understand why you're worried about basically turning into our moms, but that's not gonna happen; we're different, we're... More awesome." That earned a laugh, as well as a kiss, which I eagerly returned. It ended too soon for my liking, but that was to be expected since we were technically in public, and Holland bit her lip for a moment - she was so adorable when she did that - before saying, 'Come on, lets just do this.' and leading my off to the playroom.

Holland and I had already decided that we wanted a girl, simply because girls matured faster and we were more of an expert on girl problems than boy problems, but apart from that, we didn't really know what kind of girl we'd like. I guess it was just a matter of connecting with one of them. Connecting with a child, however, was difficult for people who weren't really that sociable to adults, let alone kids. I mean, I had made a little progress with Robyn and her friends, but I was still getting used to... Kid things, you know? Holland and I were all grown up and didn't know much about what kids liked, so this was going to be awkward. "Divide and conquer, babe?" I asked as I glanced around the large room full of children playing, not sure where to even begin. My only response was a, 'Uhhh, sure, I guess.' and, running a hand through her hair, Holland left me to go and sit with a couple girls playing with a dollhouse. Already I was regretting saying divide and conquer, screaming Wait, no, don't leave me! in my mind.

Holland, despite looking incredibly awkward, jumped right in, approaching a couple girls who were playing with a dollhouse, rubbing the back of her neck as she sat down in between them. I couldn't do that, though - just walk into the situation -, I preferred to scan my surroundings first before deciding who to talk to. There were quite a few other potential parents here today as well, talking to quite a few of the children. I didn't want to intrude on whatever they were doing, so I just searched for a lonely kid, or at least kids that weren't in a big group of people. When my eyes fell on a little girl, barely out of her toddler years by the look of it, who was playing with a toy dinosaur, my gaze lingered for a little. Dinosaurs. Yeah, I could do that, right? I mean, I didn't know much about them, but they were still pretty cool. Taking a deep breath, I forced one foot forward, then another, then another, until I was stood beside the dinosaur-lover.

"Uh, hey kid." I started off uneasily as I looked down at the brunette kid with big blue eyes that locked with mine. "Mind if I sit with you?" She nodded her head, that I think she meant that I could sit, not that she minded. Well, even if she did mind, I sit anyway; I had to at least try to socialize with a kid if we were going to adopt one. "So... What're you doing, kid?" It sounded like a stupid answer, and I mentally kicked myself. I was expecting her to just say playing with a dinosaur, but, 'The din'saur is in the forest, see?' I saw no forest, just a dinosaur, but I nodded my head anyway to humor the kid. 'And its looking for a friend. It's going Raa! Raa! and trying to find another din'saur.' Even with my little cousin, it seemed I still had a lot to learn. What appeared to me as the little girl simply moving the dinosaur was so much more to her. This kids had lots of imagination, but I had none. How could I find common ground? "Uhhh... Ok, I guess. That's... Interesting." Biting my lip, I glanced over to Holland. Her body language showed that she was struggling a little too, and while that was comforting, it didn't help my situation. It was as I whipped my head back around to focus on the little girl when I noticed a box of Lego nearby. Aha! Maybe I could turn something imaginary into something tangible, huh? "Well then," I started as I reached for the box, putting it in front of us. "Maybe we should make a friend for him." The little girl looked up at me with such a big grin that I couldn't help but smile back a little. That grin was a sign that I was actually doing something right, so I was going to treasure it for a moment. 'Okay!' She replied, grabbing the box and tipping out the contents. "Good. I'm Abby, by the way, what's your name, kid?" Without even looking up at me, she answered, 'I'm Rosie.' I wrinkled my nose at the name. "Well that's unfortunate." I muttered, being instantly reminded of my ex, who I was still on unfriendly terms with after all the s*** she put me through. Rosie Posie, I used to call her, and here I was hanging out with another Rosie. God has such a sense of humor. "Well, nice to meet you, anyway. Now, lets start with the feet." Of course, if we were going to build a Lego dinosaur together, I'd have to keep an eye on Rosie and make sure she didn't eat any of the small pieces, but it wouldn't be that hard to keep an eye on her, right?

Luckily the kid didn't put any pieces in her mouth, so I didn't have to worry about her choking, and she was actually a pretty ok kid. She told me that she liked to play with dinosaurs and watch baseball and soccer on the tv, even if she didn't understand it. Her favourite kids show was Pokemon because she thought all the pokemon were pretty cute, especially Pikachu. The girls tended to pick on her a little for not being into tea parties and stuff, but the adults made sure that they got into trouble for it. We actually had a pretty good chat, even though it had a rocky start, and eventually we made a foot-high T-Rex out of many different colored Lego pieces. I hadn't really realized how long I'd been talking to Rosie until Holland walked over and sat on the other side of me, pointing out, 'You do realize you're meant to spend time with the other kids too, right? You've been over here for almost half-an-hour.' Woops. But I wasn't about to sit here and admit that I kinda liked the kid, not right away, so I straightened my posture and came back with, "Yeah, well, dinosaur-building is a lengthy process, Holland. It can't be rushed." My wife glanced over to our masterpiece and smiled, something flashing in her eyes that I didn't quite get, but it didn't look like a bad thing so I ignored it. 'You guys did well. It looks really good.' She complimented, kissing my cheek before giving a little awkward wave to Rosie. 'I'm Holland. What's your name?' 'I'm Rosie.' Came the response before she went right back to playing with the dinosaurs, both Lego and plastic.

'Ok, this divide and conquer plan isn't working.' Holland suddenly whispered in my ear, low enough that Rosie wouldn't pick up on it, even though she was right beside me. 'This is a big thing, we've gotta meet the kids together and make the decisions together; I can't just drag you over to a child I like and say 'Lets get this one', you know? You need to interact with the children I like, too, just in case you don't get along with them.' That was a big ramble. I guess this whole adoption thing was getting to her again. Figuring a little teasing might be helpful, I did exactly what Holland said we shouldn't do, pointing to Rosie and saying, "I like her, keep we can her?" Holland's exasperated sigh was tinged with laughter, causing my face to light up. 'Abby...' "Ok ok." My voice has raised a little. I instantly hushed again. "In all seriousness, this kid's actually pretty cool. Maybe if we spend 10 more minute with her - both of us - and then I'll go and meet the kids you like. Afterwards we can discuss things together, ok?" I should've expected the raised eyebrow that followed. 'You actually like a child? And you don't think they're a brat?' Her voice was light and teasing, but I still couldn't help but roll my eyes a little and give her a playful shove. "Yeah yeah, whatever. Do we have a deal?" Holland's smile mirrored my own and she gave a gentle nod of her head. 'Ok, deal.' After a chaste kiss which I wished lasted longer, we continued playing with Rosie and the dinosaurs.

Even after hanging out with all the kids together, Holland and I both came to an agreement on Rosie. Apparently that little kid had captured Holland's heart just as much as she had, admittedly, captured mine. After that came paperwork and days out together, with a social worker trailing behind us. We took her to the park, to McDonalds, to the beach, anywhere we figured a kid would like to hang out. We told her about our house and the dogs. Rosie really seemed to like the idea of a dog big enough to ride and I think that, in time, we managed to win her over. Holland and I were still pretty awkward, but Rosie didn't seem to mind at all and just continued being a lively, energetic toddler.

A couple months later, after signing yet more forms, we were finally able to adopt Rosie. All three of us sat in the office while one of the staff typed up Rosie's adoption certificate. For a moment, he glanced over at Holland and I. 'We do give you the option of changing the child's name, if you would like to.' He pointed out. I had to admit, I let out a little sigh of relief at that. As much as I liked the kid, it'd be a little easier if I didn't have to be reminded of my ex whenever I said her name! I looked to Holland, about to ask her if we could just the name, but she was already one step ahead. 'I think we'd like to name her Alexis.' My heart stopped. For a moment I was so in shock that I had forgotten to breath. I replayed those words over and over, thinking I must've misheard, but I hadn't. "You- How did you-?" Holland gave me a knowing smile, giving my hand a gentle squeeze. 'Trent told me. I know you've always wanted a daughter named Alexis, and I'm cool with that if that's want you want.' Holland never ceased to amaze me. Whenever I thought she couldn't surprise me anymore, she pulled this out of the bag. She wanted to give me the one thing I never thought I'd be able to have, the one dream I cast aside years ago, vowing to never look back on it, and now happy tears were forming in my eyes over it. Geez, I hadn't happy cried since our wedding. Blinking back the tears, I nodded my heading, giving Holland a kiss on the cheek and whispering a "Thank you." because, really, how else could I ever repay her for this? It wasn't just our decision, though, it was also the decision of the person who was just minutes away from joining our little family.

Turning to her now, I dragged her attention away from the stuffed lion she was holding with a small yet hopeful smile. "Hey, kid?" She looked up at me, our blue eyes meeting. "How would you feel if we called you Alexis from now on? Would you be ok with that?" I asked. The seconds in which Rosie thought it over were almost agonizing, but she soon grinned back and nodded. 'Alexis sounds good!' 5 minutes later, once the adoption certificate was typed up and printed out, Holland and I walked out of the orphanage hand in hand with our new daughter, Alexis Wilson. My forbidden dream had become a positive reality, all thanks to my amazing, super considerate wife and one hella special little girl.

encountering a monster:

We were mothers. It still felt odd to say it, even 4 months after adopting Alexis, but it was amazing. Abby and I had talked about this before and both of us had had doubts about becoming parents, especially considering our mothers weren't stellar examples of how we should treat our children, but eventually we both found enough courage to take the leap into unknown territory. Things were going ok so far, and Alexis was pretty well behaved for a toddler, not putting up much of a us when things didn't go her way. Both Abby and I still felt a little awkward, not quite fitting into our new roles,but gradually we were getting there, slowly we were learning how to raise a child the right way. And perhaps that progress was what made it seem so shocking when things suddenly went horribly wrong.

I was in the kitchen when it all happened. We had just finished dinner, in which Lexi was the only one who actually ate human food, and I was washing her plate and cutlery. Jackson, an overgrown teddy bear as opposed to a dog, was keeping me company while Abby kept an eye on our daughter in the living room as she played with Mercury, Abby's Yorkie. From the laughter I could hear, it was going rather well, until-

Smash!

I tensed at the sound, then groaned. Someone had broken something, and by someone I meant Alexis. This meant that we'd have to give her some form of punishment and- "WHAT HAVE YOU DONE?!" Abby shouted out the top of her lungs. Instantly I dropped the plate in the sink and rushed into the living room, only to find Abby furiously shaking Lexi next to a smash pot and a piles of ashes. Oh no! "I TOLD YOU NOT TO THROW THE TENNIS BALL AND YOU DIDN'T F***ING LISTEN! DO YOU HAVE ANY IDEA WHAT YOU JUST BROKE? HOW MUCH IT MEANT TO ME?!" Tears were streaming down Alexis' face by now. Abby was on the verge of snapping, I could tell. I had to intervene right now before she harmed our child. "Hey, hey," Rushing other, I placed a hand on top Abby's, trying to contain my frantic look because someone had to be calm right now. "Abby, let go of her. She's just a little kid and you're scaring her." My wife turned on me then, a ball of anger that shoved me roughly, but at least I had distracted her from Lexi. "SHE SHOULD BE SCARED! SHE- SHE BROKE JUPITER! SHE- SHE-!"

And then she snapped. Chaos broke up. Abby flung the nearby coffee table across the room where it smacked into a photo of our wedding day on the wall. That photo came tumbling down and smashed into pieces, and by the time I looked back to Abby again, she was already acting the couch cushions, ripping them to shreds. Lexi was crying her eyes out, the dogs - both of them now in the room - were barking at Abby... It was all just one giant mess. A giant mess in which Lexi was in danger, I suddenly realized. Quickly snapping out of my shock, I scooped up Lexi and Mercury, calling Jackson to hell while I ran into the kitchen, slamming the door behind me. Instantly I placed the child and dog on the floor, then crouched to Lexi's level and started wiping away her tears. "Shhh, it's going to be ok," I tried reassuring her to no avail as I tried to ignore the crashing sounds behind me. "Abby's just... She'll calm down, but I need you to be brave for a moment and stay in here with Jackson and Mercury. Do you think you can do that?" Lexi sniffled and started wiping her own eyes, nodding her head in answer to my question. "Good girl." I gave her a small smile and an, "I'll be right back." before I returned to the living room again to calm Abby down.
_________________
Abigail Nathaniel Lyra Logan Calvador.
Kjærlighet Vil Tine
~Love Will Thaw~

~Centrum Permanebit~
Admin




Posts

: 70518


Join date

: 2011-06-19


Age

: 24


Location

: In Arendelle, chilling with Princess Anna and Queen Elsa




Similar topics
---
Permissions in this forum:
You
cannot
reply to topics in this forum